MUSEUM SPECIAL PIECES..
KING FRANCIS
I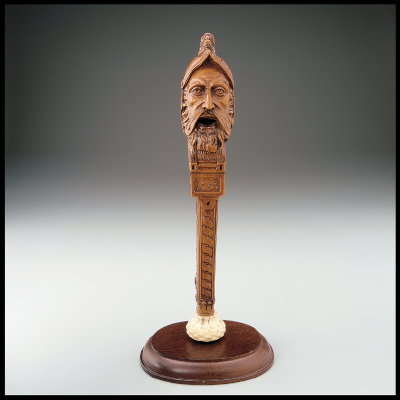 This nutcracker, dated 1569, was carved in the likeness of King Francis I of France, who ascended the throne in 1515 and ruled until his death in 1547. King Francis was an enthusiastic patron of the arts and brought many great paintings and sculptures into the palaces. He encouraged and supported many artists, even convincing Leonardo da Vinci to move to France and bring with him the famous Mona Lisa.

Boxwood, a favorite wood of the master carvers, was used to carve this nutcracker, and made possible the fine guilloche decorations on the handles. Animals or birds atop the helmet of the nutcrackers were used in this time to indicate royalty, and for King Francis, a squirrel was chosen. Archeologists do not know for sure if the ivory base was originally attached to the carving or if was added at a later date, but it adds beauty to the handles. The wooden base used to hold the nutcracker upright is not part of the carving.

Before coming to the Leavenworth Nutcracker Museum, this nutcracker was in the well known treen collection of Syd Levathan.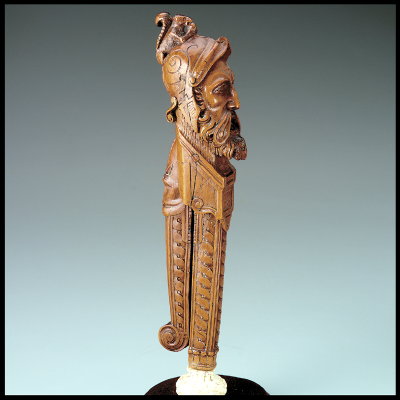 Quick Links
Federal ID #91-2143303

A Non-Profit 501(c)3 Organization
Contact Us
735 Front Street
P.O. Box 2212
Leavenworth, WA 98826
(509) 548-4573
MUSEUM HOURS
Open 7 Days a Week
1:00PM - 5:00PM

Nutcracker Museum Mission Statement:
"To foster and encourage the interest of the general public of the importance of nuts in the diets of humans throughout history and in the evolution of the nutcracker. No other tool or collectible has shown such a wide diversity of material and design as the implements used to crack the hard shell of a nut"
Museum Admission:
Adults - $5.00 (Ages 17 - 64yrs)
Seniors - $3.50 (Age 65yrs +)
Youth - $2.00 (Ages 6 - 16yrs)
Child - FREE (Ages 0 - 5yrs)
Active Military - FREE (Spouse & Children Free with ID)