MUSEUM SPECIAL PIECES..
IVORY HEADS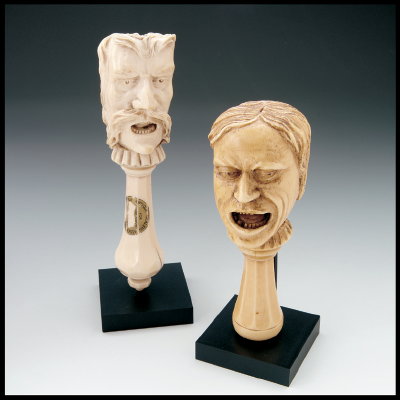 The Ivory Head on the left is believed by archeologists to have been carved in the 17th century, either in France or Italy. This nutcracker has been owned by collectors in England, Spain, Canada and the Netherlands before reaching its final home in the Leavenworth Nutcracker Museum. It still shows remnants of a seal which had been applied at one time indicating that it was over 100 years old.

The Ivory Head on the right is from the late 17th or early 18th century and was carved in France. Both of these nutcrackers employ the screw mechanism.

The color of elephant ivory is usually a warm creamy color but there is a difference in the coloration from where the animals live. Those from Western Africa have a harder ivory and is darker in color, whereas those from Eastern Africa have a softer ivory with a lighter color. Carved ivory will darken with exposure to light, and it is thought by some that the foods eaten by elephants will cause different coloration in the tusks.
Quick Links
Federal ID #91-2143303

A Non-Profit 501(c)3 Organization
Contact Us
735 Front Street
P.O. Box 2212
Leavenworth, WA 98826
(509) 548-4573
MUSEUM HOURS
Open 7 Days a Week
1:00PM - 5:00PM

Nutcracker Museum Mission Statement:
"To foster and encourage the interest of the general public of the importance of nuts in the diets of humans throughout history and in the evolution of the nutcracker. No other tool or collectible has shown such a wide diversity of material and design as the implements used to crack the hard shell of a nut"
Museum Admission:
Adults - $5.00 (Ages 17 - 64yrs)
Seniors - $3.50 (Age 65yrs +)
Youth - $2.00 (Ages 6 - 16yrs)
Child - FREE (Ages 0 - 5yrs)
Active Military - FREE (Spouse & Children Free with ID)